We're delighted to confirm that our Summer Holiday Camps will be held at Meadowbank Stadium, Dorking.
Spaces are limited – book your place now!
Full mornings or 90 min Mini-Camps in July & August.
Boys and Girls, aged 5-15. UEFA/FA Coaches. Fun, intensive sessions. 3G Pitch. Safeguarding and Social Distancing.
Full Morning Camp (9.30am-12.30pm – £22.50)
or a Mini-Camp (9.30-11am or 11am-12.30pm – £12.50).
There is a 10% discount if you book the same player on 4 or more Camps or Mini-Camps.
Dates are:
27-30 July
10-13 Aug
24-27 Aug
We are limited to 40 players per camp.
BOOK HERE: www.futsalfever.co.uk – (Click on 1on1s & Camps)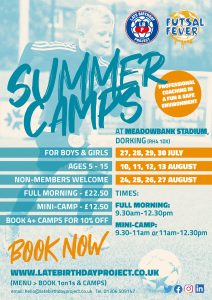 #HaveFun #StayActive #KeepImproving #SummerHolidays